Note: This article was originally published October 22nd 2012 and has been updated.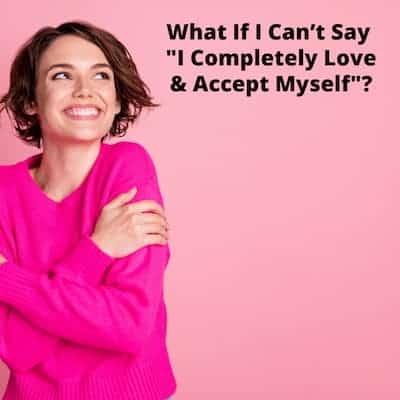 From the very beginning, the first step of Gary Craig's Emotional Freedom Techniques (EFT) was to tap on the side of the hand and use what he called the set-up phrase: "Even though I have this issue I deeply and completely love and accept myself."
I can appreciate the sentiment of wanting this for ourselves, but many clients over the years have queried why they need to use this phrase.
Here are five thoughts to consider when choosing tapping phrases:
1) The Words We Use While Tapping Aren't Magic
This is the piece of advice I give most often to tapping beginners. When most of us learn tapping we are taught to tap on a point while saying a phrase. This can lead us to believe that to get relief what we need to do is say a phrase and tap.
In reality the way we find relief while tapping is by focusing on an issue and tapping on the points. Saying words out loud about the problem is one effective way of focusing your effort BUT it is not the only way.
Your focus is of most importance, not the words you use.
Sometimes a specific word, phrase, or reframe will help us to focus intensely, while at other times no words are needed at all. The great thing about tapping is that it is really quick and there are few consequences for trying something new.
My advice is to try lots of different phrases and find the ones that work best for you. If something is not ringing true, try something else, it will only cost you a few seconds. So if the phrase "I love and accept myself" isn't useful, then look for something else that is.
[For more information on the types of information that we get from each round of tapping and what to try next check out Feedback: What We Can Learn From Each Round Of Tapping]
2) Even If We Don't Believe The Words We Say While Tapping They Can Still Be Helpful
This builds on the principle of our focus being more important than the words we say. Often saying words we don't believe helps us to focus on the issue we want to address.
Let's take weight release as an example.
Imagine that you want to release 35 lbs. but there is a part of you that doesn't believe it is possible. You could tap on the phrase "there is a part of me that doesn't believe I can release this weight" as an easy way to tune in to that part of yourself that feels hopeless about shedding the excess pounds.
You could also say the exact opposite and achieve the same result. You could tap on a phrase like "I know that I am going to release 35 lbs!" and the little voice inside my head will respond "No, you are not! There is no way you will release this weight. It's hopeless!"
Here the focus is not on the words, but on the feelings of hopelessness around the situation. In both cases you are tapping on the same issue, even though the phrases have opposite meanings.
The same can be true for the phrase "I love and accept myself." When you say this phrase out loud and focus on whatever emotions arise, you will be tapping on the issue that needs to be addressed.
This is especially true if you believe the phrase because the critical voice inside your head will pipe up and tell you so.
3) There Might Be A Reason That You Don't Like The "Love And Accept Myself" Phrase While Tapping
I find it interesting when my clients have an immediate visceral reaction to something because it tells me that we have struck a nerve.
For example, you could call me overly obsessive about sports. I may disagree with you on this, but you won't get an emotional response from me because it's not something I worry about in my own life.
On the other hand, if you were to call me self-absorbed, that would elicit an emotional response from me. I would feel attacked, hurt, and offended. Not because this is not true, but because I do personally I struggle with this concern. I would feel attacked because there is a wound around this area of my life and you just prodded that wound.
I believe one of the main reasons people don't like saying "I love and accept myself" is because it hits close to home as something a part of them can't believe. We don't like saying these words because they remind us of our own failings.
Saying something we don't believe in gives us the opportunity to tune in to the part of our personality that doesn't believe the phrase. If there is a strong "I don't like saying I love and accept myself" reaction, then this is a great area to explore when you are tapping on our own or with a practitioner.
4) Other Phrases To Try While Tapping
Occasionally some issues can be so emotionally charged that it is not useful or safe for us to dive into them. One of the reasons I love tapping is because it allows us to creep up on a problem slowly without having to go directly to the most painful part of it.
If the phrase "I completely love and accept myself" is too emotionally charged to be useful to you, try these alternatives instead:
I give myself permission to love and accept myself
I might not believe that I love and accept myself, but someday I know it will be possible to love and accept myself
I am worthy of loving and accepting myself if I don't right now
I give myself permission to love and accept myself one day
I give myself permission to believe that it is possible to love and accept myself
It is safe for me to love and accept myself
There is a part of me that fully loves and accepts myself even if I don't have access to that part at this moment
Even though I am not perfect, I am open to the possibility of loving and accepting myself anyway
This work is helping me to work towards loving and accepting myself
If you are looking for more creative set-up phrases you should check out the set-up phrase generator. Each time you refresh the page it will give you 10 new set-up phrases to try.
5) The Reason I Never Start With The Set-Up Phrase
Never might be a little strong, but as a general rule I don't start a round of tapping with the set-up phrase because the emotional reaction it prompts in many people can be distracting. If you are tapping on an issue that has nothing to do with love and acceptance and you have an issue with that idea, then you are complicating the moment.
For example, let's say I'm tapping on a pain in my knee and I tap on "Even though I have this pain in my knee I love and accept myself." Now I am dealing with the pain in my knee AND I have surfaced issues with the self-acceptance issue. Instead, I find it more useful and natural to tap on self-acceptance when it arises in connection with another issue.
This last point is rather controversial and I know a number of respected practitioners who would strongly disagree with me. As always, do what works best for you.
Conclusion
Do you have to say, "I love and accept myself" for tapping to work? Of course not.
BUT if you are having a hard time saying it or you feel uncomfortable when you think about it, then it is more than likely that you have hit a nerve around an issue that needs some extra attention. As Mastin Kipp says, "Without self-acceptance self-help won't work" so you might consider making time to tap specifically on this issue.