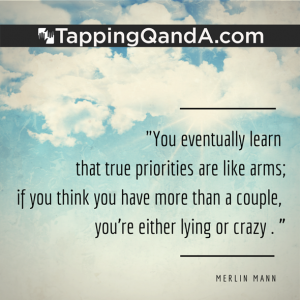 Merlin Mann is a technologist, a productivity specialist, and a professional provocateur. I mention the last part because he has the tendency to say things that are true and useful, but in a rather blunt way.
During one of his fabulous podcasts (Back To Work) he was describing a question and answer session with a group of top level executives at a very large company.
One of the execs was asking about how to manage her time and her inbox. She was describing how she had so many priorities that it was impossible to get anything done.
Merlin asked her how many priorities she had. Without skipping a beat she replied, "Twenty-seven!"
Merlin's response: "You eventually learn that true priorities are like arms; if you think you have more than a couple, you're either lying or crazy."
[Read more…] about The Problem With Priorities, Overwhelm, And How To Tap For Them (w/ Tapping Script)