In an effort to make the research around tapping more accessible to the general public David Feinstein, Ph. D., is writing summaries of these studies. You can find all the summaries that have been shared so far here.
---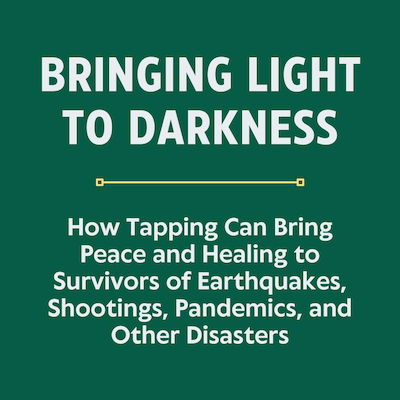 The number of natural disasters, from hurricanes and tornadoes to floods and forest fires, has nearly doubled in the past decade compared to the previous decade due largely, according to the United Nations, to "extreme weather events." Meanwhile, human-made disasters–such as mass shootings, warfare, violent conflicts impacting civilian populations, and industrial accidents–have also increased exponentially.
Whether natural or otherwise, disasters can severely impact mental health. Between 30 and 60 percent of individuals who survive a disaster suffer with the symptoms of PTSD, and all must deal with enormous emotional and practical challenges. Even for those who do not develop PTSD, symptoms of anxiety, depression, paranoia, sleep disturbance, substance abuse, and stress-related physical illness are not unusual. Based on hundreds of reports from the field and a growing number of formal studies, energy psychology or acupoint tapping has been remarkably effective in the treatment of trauma-based psychological difficulties. Read more >>>
About David: DAVID FEINSTEIN, Ph.D., is a clinical psychologist and a pioneer in developing innovative therapeutic approaches, leading to nine national awards for his books on consciousness and healing. He and his wife, Donna Eden, have built the world's largest and most vibrant organization teaching energy medicine. Their latest award-winning book, The Energies of Love, achieved best-seller status on the NY Times Relationship List. David has served on the faculties of The Johns Hopkins University School of Medicine, Antioch College, and the California School of Professional Psychology.