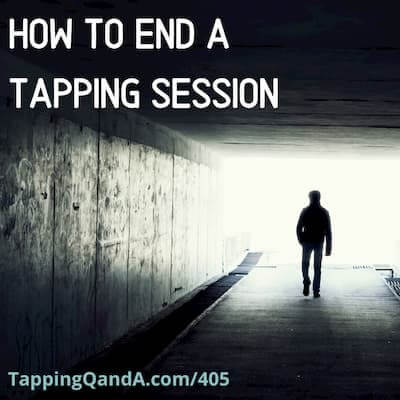 How we end a tapping session is sometimes more important than how we begin it. At the beginning it is most important that we simply start tapping. With each successive round of tapping, we gain clarity about the issue at hand and where we should focus our efforts.
For me, there are two goals for the last little bit of tapping at the end of a session.
First, I often feel a little groggy and fuzzy brained when I've been tapping for a while, which makes sense as tapping often releases a lot of stored emotion and memories. It is important that I'm able to return to my day feeling calm and grounded.
Second, even though we have stopped tapping doesn't mean the process of healing and transformation has ended. The new thoughts and beliefs we've connected with are still integrating even after the tapping stops. At the end of the session, I find it useful to remind myself that the process of healing and transformation will continue after a session. This recognition encourages me to come back and tap again and again.
By taking a few minutes to tap in this way, we can get the most out of our tapping sessions and also set ourselves up for success after the session.
You can find the full tapping script as a pdf of this audio over at Tapping Q and A Podcast Scripts and Transcripts.
Subscribe in: Apple | iPhone | Android | Google | Spotify | Pandora