[In this series we examine the importance of the words we use and how changing our vocabulary can change our minds, giving us an opportunity for transformation. More articles can be found in this series here: Tools:Words]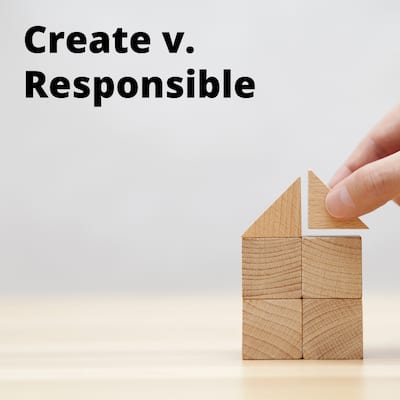 Note: This article was originally published November 20, 2011 and has been updated.
I was recently working with a client who has Lyme disease. At one point in the session he said, "I created this situation."
This statement really struck me. I asked myself, "Did he really create the situation?" and more importantly, "Is it helpful to worry about how a situation was created?"
Sometimes it is obvious when we create a situation, such as choosing to accept a job offer. At other times our lack of action creates a situation, like having your power turned off for failing to pay an electric bill.
But just because something is happening in my life does not mean that I have created it. I think this is one of the areas in which Law of Attraction teaching only goes so far. To assume I am creating everything in my life would mean that my intention is more powerful than the free will of the people around me.
For example, if I am sitting in my living room and a baseball smashes through my front window, it wasn't because I created that situation.
Even if you are willing to argue that I did somehow create the situation of the baseball shattering the window, in the short term it doesn't matter how or why it happened. What matters is what comes next as the window will not fix itself. It is up to me to take responsibility for the broken window, clear up the glass so that nobody gets hurt, and have the window fixed to keep the elements out.
One of the pitfalls of looking at the world through the eyes of "how we created" a situation is it can impede the healing process. It's often helpful to reflect on why something happened so it won't happen again. At the same time, if we are only trying to figure out how it was created or how we created it, we will get stuck.
In our example, if I am only worried about how and why the baseball came through my window, my living room will remain covered with broken glass.
For me, it is much better first to respond to what I am responsible for in a situation without allowing myself to get entangled in the emotional trap of wondering why or how I got there.
In the example of my client with Lyme disease, worrying about the specifics of how he got it will not be helpful. More than likely he will never again be in a situation where he is exposed to the disease. Instead he can move forward by recognizing what he is responsible for. He is responsible for how he feels physically right now, for taking his medication, following his doctor's advice, and understanding the lifestyle choices and environments that cause a flare up of the symptoms.
By focusing on what we are responsible for we are able to leave behind the emotions of what was and move to the energy of working with what is.
That is why I think it is so important that we understand the difference between creating and being responsible for something in our lives. First, I respond to what I am responsible for. This is what is in front of me and what I am going to do next. Once that is done there will be the opportunity to ask questions about how something was created. It might be the consequence of a choice I made, the choices of others, or a situation that will never happen again.
Doing our investigation in this order allows us to take care of the healing in the most efficient order and prevents us from taking more responsibility than is warranted.
Click here to read what others have to say. I would really love to hear what you think!