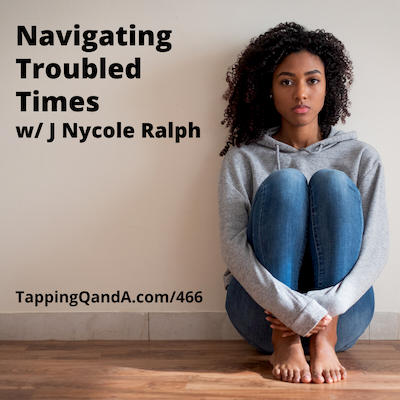 The murder of George Floyd, Breonna Taylor, and others as well as the ongoing protests at centuries of racial injustice have galvanized many to speak truth more forcefully in their daily lives. One of those people is my friend J Nycole Ralph.
As J Nycole was processing her own emotions, she realized that she was being more impacted by the death of another black American AND she wasn't standing up in as powerful a way she wanted to.
To that end, she created a process called The CREATE Method. It stands for
C – Claim that you feel something
R – Recognize the feeling
E – Embrace the feeling
A – Address the feeling
T – Take action
E – Educate and Engage
In today's podcast, J Nycole walks me through these six steps. As someone who has helped people process their emotions for over a decade, I learned a number of new ideas in this conversation. It is well worth your time.
Listen to this. Take notes. Implement the ideas as you are working on and tapping for your issues and struggles. This is timely for this moment, but it is a tool you can use always.
Subscribe in: Apple | iPhone | Android | Google | Spotify | Pandora
Guest: J Nycole Ralph
Contact: email @ JNycoleRalph@gmail.com; Instagram @jnycoleralph; Instagram @wokseries; Schedule a free CREATE Strategy Session with J Nycole
About: J Nycole Ralph teaches the C.R.E.A.T.E. process and helps entrepreneurs, artists, and personal development junkies to implement it into their lives so that they can make an impact on the world and get paid well to do it! She does this via life coaching through the world-renowned company, Inner Access, as well as via independent life coaching for actors & performers. J Nycole has been living her dream of performing on Broadway and touring around the world for the past several years, telling the heartwarmingly impactful yet hilarious story, The Book of Mormon (written by Matt Stone & Trey Parker, writers of South Park). She has also created her own comedic series called Working Out the Kinks that not only makes you laugh but also uses hair as a vehicle to explore and educate on the differences between black and white culture. Additionally, J Nycole is an executive producer on the upcoming feature film, Lola, the first African-American female boxing movie, starring Taja V. Simpson of The Bold and the Beautiful and Tyler Perry's Boo 2. J Nycole's mission is to carry out the legacy of entertaining while empowering and educating, a legacy left to her by her mother and grandparents to whom she gives thanks and honor for, without them, she would not be the woman she is today.