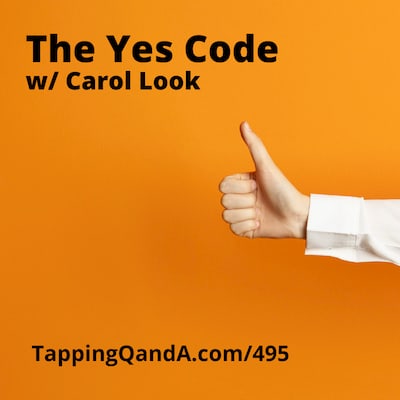 I spend a lot of time helping my clients to get clear about the actions they want to take. They often think their problem is not knowing exactly how to do what they want to do.
In reality, the problem isn't not knowing what to do next, it's about actually knowing what they want. If we don't know the direction in which we're heading, it's impossible to make a concrete plan.
In this week's podcast Carol Look shares with us a simple three-step process she calls The Yes Code. This process uses tapping to find emotional clarity about what we want, which then allows us to figure out what action to take next.
Subscribe in: Apple | iPhone | Android | Google | Spotify | Pandora | Amazon Music
Guest: Dr. Carol Look
Contact: web @ CarolLook.com; twitter @CarolLookEFT;
About Carol: A pioneer in the Energy Psychology field, Dr. Carol Look has brought unprecedented innovations to the application of Emotional Freedom Techniques (EFT), and has produced outstanding results for her clients around the world.
Don't forget to check out all of Carol's other podcast interviews