I would like to introduce you to someone. Look at this cute little pumpkin!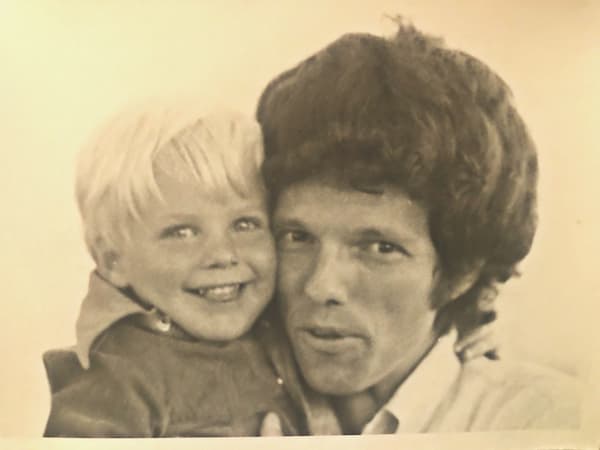 That's me when I was little. (I'm the one on the left.)
I know! It's hard to believe. No surprise that one of my nicknames growing up was "Whitey" because my hair was so blond it was almost white.
For the last two weeks I have been spending lots of time with this little guy.
AND what I mean by that is I've been focusing my morning tapping sessions on working with myself at this young age.
I have been:
listening to his fears
giving him advice
asking for his input
creating safe spaces
But mostly I have just been showering him with love!
In every one of these sessions I have cried at some point.
It all starts somewhere
The reason I have been spending so much time with my younger self is because of the way the human brain works.
The reason hypnosis works is because when you are being hypnotized, your brain changes states. It goes from beta waves (awake) to alpha waves (relaxed) to theta waves (deep hypnosis). In the theta state we can create deep change and transformation as we are able to rewrite what is in the subconscious mind. We are able to learn and change quickly.
Before the age of seven we spend almost all of our time in either the alpha or theta brain wave state.
It makes sense that our brain is in hyper learning mode at the ages we are doing the most learning.
The lessons that were never intended to be lessons
Because we are so open to learning at this point in our lives, we take everything we learn as true.
On one hand, it is great that we can learn so quickly at this time in our lives.
On the other hand, we can see how quickly this can go wrong.
For example:
If we are around a frustrated adult who says something like "I wish you were never born" we can learn that we shouldn't be alive
If we are playing and look up to see that the adult who was looking after us has left the room, we can learn people can't be trusted and they will abandon us
If we are around people who are sarcastic and joking and one adult says to another "you'll be lucky to find anyone to marry you" we can learn that finding someone to love is hard
If an adult slams down the phone to a telemarketer and mutters "sleazy salesman" then we can learn all salespeople are sleazy
And the list goes on.
Even when we are surrounded by well-meaning, loving adults it is possible to learn the "wrong" lessons when we are very young and don't understand the world.
At this particular stage in our lives, the lessons we learn are treated by our brains as truths, rather than beliefs that can be questioned.
The subconscious gets its way
Because the mind works this way it can cause frustration and pain.
It puts us in a situation where our conscious mind can see the world through the eyes of a thoughtful adult, while the subconscious mind sees the world through the lessons we learned when we were young.
AND (and this is a big and) the subconscious mind always wins.
Have you noticed how seldom New Year's resolutions work? That's because they are an act of the conscious mind trying to change the beliefs of the subconscious mind.
I've been spending a lot of time with the little guy above because I am trying to uncover and understand all the lessons he learned that no longer serve me.
Wanting to change is not enough
If we truly want to change our lives, we need to do more than a little tapping here and there. We also need to change the beliefs we have about ourselves and the world.
I created the ID Transformation Retreat with exactly that in mind. I want you to be able to participate in an experience where you can uncover and unpack the beliefs that are keeping you stuck and holding you back from living a life you love.
This event will be different from most of the events I run. Usually my emphasis is on teaching tools and techniques that you can use later when tapping on your own or with clients.
At the ID Transformation Retreat we will be doing HEAPS of tapping!
Because this isn't about learning, it is about healing.
Don't get me wrong, you will still learn a lot, but that is not the main aim of the event.
Here's how the ID Transformation Retreat will work:
Before the event you will receive a series of short videos from me. Each video will teach you a tapping tool you can use to do deep work on your own. Sharing these ahead of the event means I won't have to spend as much time teaching during the retreat. It will take you less than an hour to watch all the videos AND doing so ahead of the event is not a prerequisite. Instead, they are designed to set the table for those who are interested in the hows and whys of the tools we'll be using together at the retreat.
During the retreat we'll unpack known and unknown limiting beliefs and we will transform and heal them. I will be tapping with volunteers one-on-one, we are going to do loads of group tapping, and there will be a chance to learn from the insights and transformation of others.
After the event I am going to hold a bonus session where you can ask any questions that arise after the event, and we'll do more tapping.
You have seven days to listen to the replays so that if you can't join us live, you can still participate AND even if you are there live, you can tap to the sessions again and again.
All the details
Here are the details:
Live one-day retreat on Zoom, from 10 AM to 5:45 PM Eastern US on Saturday, April 23rd
7-day access to the replay so you can work through it again and again
A library of tapping tools to transform your identity that you can download and keep
Bonus Q&A session on Friday, April 29th at 8 PM Eastern US
Notice that the bonus session is at 8 PM on Friday night. I planned this especially for those who live in Asia, Australia, and New Zealand who don't want to stay up all night to tap with me on Friday 23rd. Everyone is welcome to join the bonus session, but I wanted to make sure I did something special for those on the other side of the world.
The ID Transformation Retreat only costs $247.
That's less than the cost of working with me for an hour AND you will get a full day of transformation for that price.
You can sign up here: http://idtransformationretreat.com/
Limited Space
I want this to be as personal of an experience as possible, so I am limiting registration to just 100 people. Once 100 people have registered, registration will close.
Don't miss out: http://idtransformationretreat.com/
If you have any questions, reply to this note and I get right back to you.
I really hope you can join us. It is going to be an amazing day of healing and transformation.
Gene