Note: This podcast is a part of the Healing Fundamentals series. The topics covered in this series move beyond the basics of tapping to understanding the healing process. By understanding these fundamentals you will be able to get more out of your tapping faster. Make sure you check out the whole series.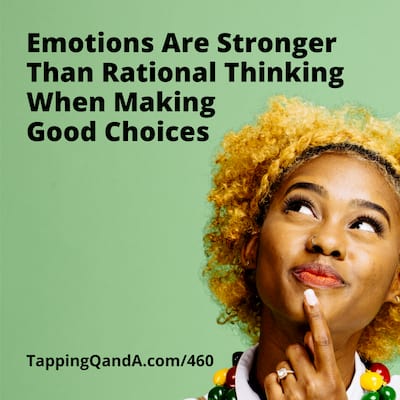 I often hear my clients say "I should have known better" OR "I know better, but for some reason I keep making the same choice" when they are judging their actions. Just knowing what the right choice is doesn't mean we will make it, because information alone is not enough.
Most of the reasons we don't make the right choice or take the right action, even though we know intellectually what we want to do, have to do with our emotional state. In almost every case, emotions will win out over reason.
This week's podcast explores:
Why our emotions win
How dealing with regret for poor choices in the past is key to making better choices in future
How to use EFT Tapping to make better choices more often
Subscribe in: Apple | iPhone | Android | Google | Spotify | Pandora