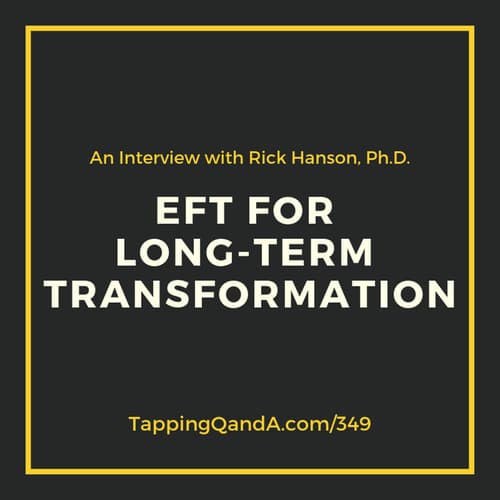 When people are looking for long term results with tapping they commonly run into one of two problems. Either they are working on the wrong issue for their desired outcome OR they are only working on a symptom and not the root cause.
If you are making either of these mistakes, chances are that you're not getting as much as you can out of your tapping practice.
New York Times bestselling author Rich Hanson has done a masterful job in breaking down the types of problems in relation to our sense of safety, satisfaction, and connection. He has also developed a clear set of tools which can help us to bring about transformation and healing in each area.
When we know the right issues and we are using the right tool, transformation comes more quickly and is much longer lasting.
In
Podcast #350
I share how to apply everything Rick and I talk about in your daily tapping practice.
Subscribe in: Apple | Android | Spotify
Guest: Rick Hanson, Ph.D.
Contact: web @ rickhanson.net; Just One Thing Newsletter; facebook @ Buddha's Brain ; podcast @ Being Well Podcast
About: Rick Hanson, Ph.D.,is a psychologist, Senior Fellow of the Greater Good Science Center at UC Berkeley, and New York Times best-selling author. His books are available in 28 languages and include Resilient, Hardwiring Happiness,Buddha's Brain,Just One Thing, and Mother Nurture.
A summa cum laude graduate of UCLA and founder of the Wellspring Institute for Neuroscience and Contemplative Wisdom, he's been an invited speaker at Oxford, Stanford, Harvard, and other major universities, and taught in meditation centers worldwide. In 2016 he gave a keynote address at the annual meeting of the American Psychological Association.