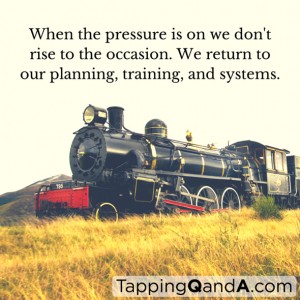 Recently my friend Rebecca Kane asked me about my approach to working with clients and how I structure my client sessions.
It turned into a very constructive conversation.
If you have ever wondered what a practitioner is thinking when they are doing a session and why they do what they do, here is your chance to hear my point of view.
This is not the only way or the best way to do a session, but these are things I keep in mind to ensure I am keeping my clients safe and providing the best care possible.
If you are interested in working with me one-on-one drop me a note.
If you are interested in tapping training created by Gene you can get Advanced Tapping Training at a discount and a full year of the the Ruach Center.
In addition to her work as a tapping practitioner, Rebecca Kane is a very talented graphic designer. You can see samples of her work and contact her at: KaneDesignConsulting.com