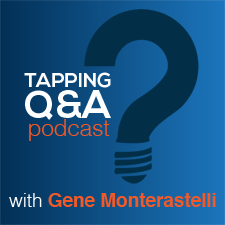 The first weekend of April the 2nd annual Spring Energy Event was held outside NYC. My friend Jondi Whitis did an awesome job once again of putting together a great event.
This year I was asked to talk about how we can use tapping to move ourselves to taking the action we want.
My presentation was broken into three parts:
Part 1: Tapping For Action v. Tapping For Relief
Part 2: The 9 Immutable Laws Of Taking Action
Part 3: 4 Ways To Use Tapping To Move You Towards Taking Action
The version of the handout I created for the talk had a number of blanks for the audience to fill in while listening. I have provided the completed notes below.
If you are looking for help taking action you will find over 200 audios, classes, and resources in the Ruach Center designed specifically to move you taking action.
### Notes on from recording ###
When are we motivated to take action?
Close to goal

doesn't have to be the big goal, but it is it seems easy to achieve

In lots of pain
When are we not motivated to take action?
Two Types of Tapping
First Aid

feel better/less pain
feel in the moment
feel relaxed

Action

feel energized
feel driven
see possibilities
Tapping for first aid leads to relief and pause.
Tapping for action leads to action.
Part 2: 9 Immutable Laws Of Taking Action
1) If it wasn't for resistance to change, the change would have already happened.
2) You can't think your way out of an irrational fear.
3) The problem is not the problem (most of the time).
Four reasons we don't take action

don't know what we want
don't know how to do it
hurts to do it
hurts to be successful

First two might be the problem
Second two aren't the problem
4) Fear is not the enemy. Misinformed and disproportionate fears are.
5) Change what you fear, change how you act.
If you are free of fear you don't have to prioritize your to-do list.
6) The challenge to change is inertia.
The shit we know is better than the shit we don't know.
7) When we are resource poor we will make emotional choices.
Physical
Emotional
Cognitive
8) The people in our lives want us to change for the better as long they don't have to change.
9) You don't need to be be fearless. You need to be fearless-ish.
Part 3: 4 Ways To Tap For Action
Tap for to-do list.
Tap for the four reasons we don't take action
Ask yourself:

What is unclear about my goal?
What don't I know how to do?
What would/could go wrong if I took action?
What would/could go wrong if I succeeded?

Look at:
How To Tap To Action (The Great Visualization Hoax)
See yourself trying to do what you want, encountering obstacles, and see yourself overcome the obstacles.
Tap On Not Needing To Be Perfect
Perfectionism is the arch enemy of action
Perfectionism is nothing more than over-functioning fear