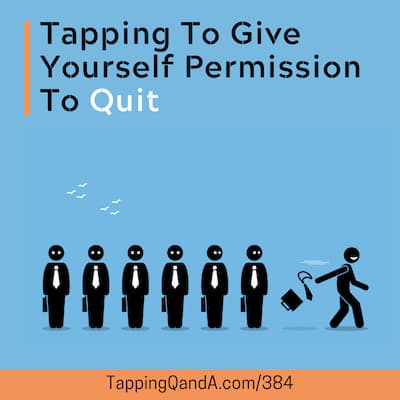 The idea of quitting comes with a lot of cultural baggage. Quitting is often seen as failure, or giving up, or as a sign of weakness.
I'm sure you have heard the old chestnut, "Winners never quit and quitters never win."
Don't get me wrong. It is a good thing to live up to commitments and take responsibility for the outcome of our choices, but at the same time, so is quitting the activities that are not producing positive outcomes.
It is good for us to let go of the tasks, plans, relationships, and activities that no longer serve who we are and who we want to be.
This week I have a tap-along audio that will help you to be comfortable with quitting the parts of your life that no longer serve you. This is one you might need to tap on more than once.
You can find the full tapping script as a pdf of this audio over at Tapping Q and A Podcast Scripts and Transcripts.
Subscribe in: Apple | iPhone | Android | Google | Spotify | Pandora