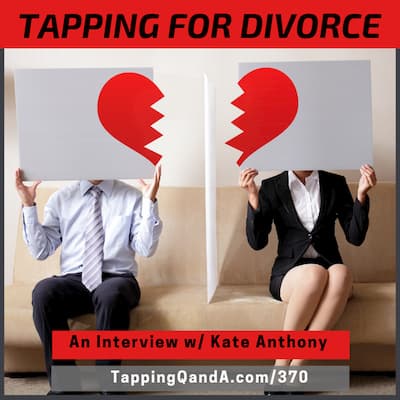 Divorce is a tricky subject.
One one level there is all the cultural pressure to find a way of making a success of a struggling relationship. On the other, there is the desire to keep yourself happy and healthy by ending a relationship that is no longer working.
Because of these opposing desires, figuring out a divorce is seldom straightforward.
This week I have a conversation with Kate Anthony, a coach and the author of the "Divorce Survival Guide".
We talk about the emotions that come up with considering divorce:
What will happen to my kids and how can I support them emotionally?
How will I cope on my own financially?
Isn't there one more thing I should try?
How will my friends and family react if I get divorced?
How will I face my faith community if I get divorced?
What if I am just over reacting to something that could be fixed?
If you are in an unfulfilling relationship, this is the perfect starting point to start sorting out (and tapping for) your emotions.
ALSO, if you know someone who is going through difficulties in their relationship, this conversation will give you ideas for a starting point to asking them thoughtful questions and how to be emotionally support in such a difficult time.
Subscribe in: Apple | iPhone | Android | Google | Spotify
Guest: Kate Anthony
Contact: web @ KateAnthony.com; facebook @ CoachKateAnthony; instagram @thedivorcesurvivalguide
About: Kate Anthony is a certified life coach who helps women decide if they should stay in or leave their marriages and then guides them through the divorce process should they choose to leave. Kate empowers women to find their strength, passion, and confidence, even in the most disempowering of circumstances and helps them move forward with concrete plans, putting their children at the center (not in the middle) of all decisions.
In addition to her certification, Kate has also trained as a relationship coach and is an expert in communication, co-parenting, and emotional intelligence.