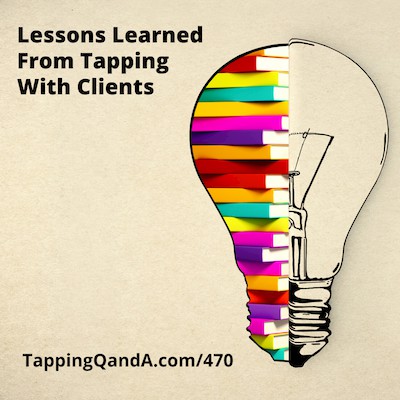 One of my favorite parts of the tapping community is people's willingness to share their experience and expertise. A few months ago I sent an email to a number of practitioners I admire and asked them if they would be willing to share their wisdom about the following:
What lessons have clients taught you about healing?
What is something you have changed your mind about when it comes to healing, working with clients, or your own transformation process?
If you were to start your own healing journey over again, what would you do differently?
What is one thing you wish your clients believed about themselves?
What is one thing you wish your clients believed about the healing process?
I received some wonderful responses from Kim D'Eramo, Alan Davidson, Jondi Whitis, Robin Bilazarian, Kris Ferraro, Gwyneth Moss, Deborah D Miller, Jake Khym, Tania A Prince, Ange Finn, Nancy Forester, Peta Stapleton, Julie Schiffman, Steve Wells, and Mary Ayers. You can read all their answers (and soak up their wisdom) right here.
Reading through all of these amazing answers gave me the opportunity to reflect on those questions myself. In this week's podcast I share my own answers to the five questions.
These lessons are just a taste of what I will be teaching in my Mastering the Art of Delivery training. If you join us, you will get more out of your tapping while working with clients and while tapping on your own. Use the coupon code "podcast" for 50% off the registration.
Subscribe in: Apple | iPhone | Android | Google | Spotify | Pandora