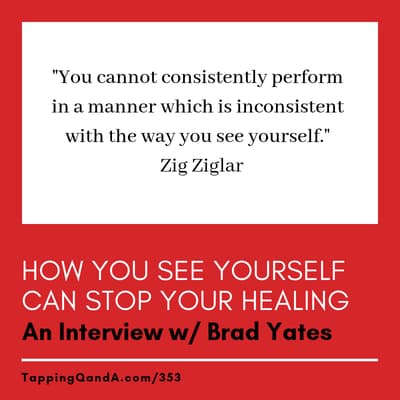 In this conversation with Brad Yates he shares the Zig Ziglar quote "You cannot consistently perform in a manner which is inconsistent with the way you see yourself."
The quote came up because we were talking about the reasons we sometimes don't get the results we are seeking with tapping.
We often tap because we want something to change in our lives. BUT if we don't believe we are the type of person who can have the outcome we want, we will sabotage ourselves to make sure we don't get it.
For example:
If we can't see ourselves as a successful business owner, we will sabotage the growth of our business.
If we don't believe we are worthy of love, finding a lasting romantic relationship will be hard.
If we think it is too late for change, we won't get around to finding time to tap.
In this conversation Brad and I talk about four of the ways in which we can uncover the beliefs about ourselves that are incongruent with what we want, and how to tap for them.
Subscribe in: Apple | Android | Spotify
Guest: Brad Yates
Contact: twitter @EFTWizard; web @ TapWithBrad.com; facebook @ facebook.com/BradYatesTapping
About Brad: Brad Yates is known internationally for his creative and often humorous use of Emotional Freedom Techniques (EFT). Brad is the author of the best-selling children's book The Wizard's Wish, the co-author of the best-seller Freedom at Your Fingertips, and a featured expert in the film "The Tapping Solution," He has also been a presenter at a number of events, including Jack Canfield's "Breakthrough to Success", has done teleseminars with "The Secret" stars Bob Doyle and Dr. Joe Vitale, and has been heard internationally on a number of internet radio talk shows. Brad also has well over 800 videos on YouTube, that have been viewed over 23 million times.
Here is every interview that I have done with Brad: