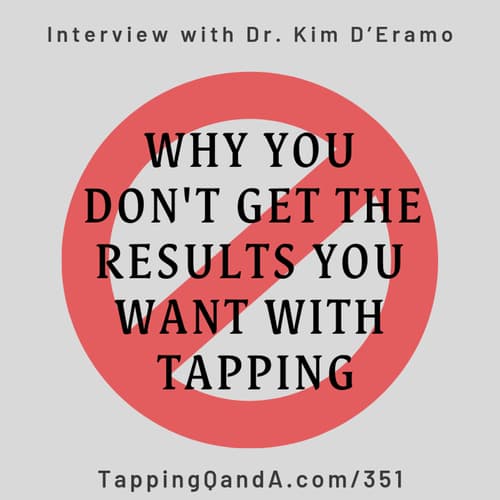 Dr. Kim D'Eramo was frustrated that she wasn't getting the results that she wanted in her medical practice. Then she discovered tapping. Using tapping with her clients made a huge difference…but she still wasn't getting the results she wanted.
Because of this she dedicated a lot of time to thinking about why some issues were more difficult to clear, and why some symptoms lingered.
In this interview we talk about the two main reasons why issues don't clear with tapping.
Supporters of the podcast have access to a bonus interview with Dr. Kim. Become a supporter today to have access the this and all the bonus podcast.
Subscribe in: Apple | Android | Spotify
Listen to both Kim and Gene in this year's Tapping World Summit.
Guest: Dr. Kim D'Eramo
Contact: web @ DrKimDeramo.com; instagram @drkimderamo; youtube @YouAttractWellness; facebook @DrKimDeramo
About: Dr Kim D'Eramo graduated medical school in 2002 from University of New England College of Osteopathic Medicine, where she also completed a Fellowship in Osteopathic Medicine and Medical Gross Anatomy, as well as an undergraduate Fellowship in Neuroanatomy. She completed her Emergency Medicine residency at Emory University in 2005, and is board certified in Emergency Medicine.
Dr. Kim founded The American Institute of Mind Body Medicine (AIMBM) to train other doctors and health practitioners how to activate the body's ability to heal itself. Through AIMBM, she conducts live workshops and retreats, and assists clients online internationally.
Dr. Kim and her husband Dr. Mario Torres-Leon produced a Top-10 podcast "The Thrive Doctors" featuring the latest in MindBody healing.
In 2012 she published The MindBody Toolkit, which was a #1 Amazon Bestseller, and her work has also been featured on national television networks in America.